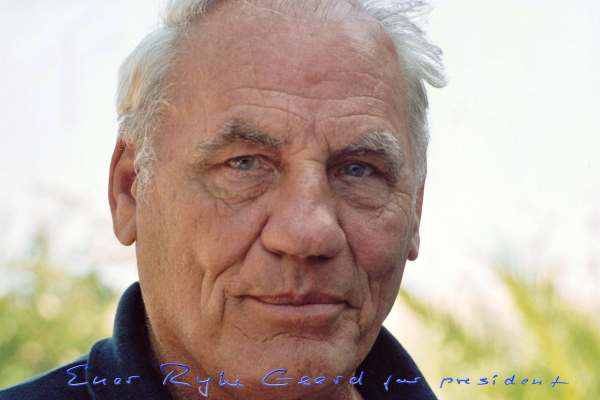 Dr. med. Mag. theol. Ryke Geerd Hamer
Ryke Geerd Hamer is one of the real geniuses of our time.
With his "laws of nature, he eavesdropped on by Mother Nature" – as he always used to say, he not only created a system in medicine that can be understood by everyone. Dr. Hamer also showed a way out of the most diverse so-called diseases of civilization that plague mankind to an increasing degree.
Dr. Hamer is the discoverer and founder of Germanische Heilkunde®
This science does not only concern medicine, but our entire social system – worldwide. By the way, Mother Nature, with her laws, works globally and does not care about national borders, religions, or the like! We are all creatures of Mother Nature and are equally subject to her will.
A famous homeopath once said: "Psst! We write year one after Hamer!" Another famous alternative physician confirmed that Germanische Heilkunde® is heralding a paradigm shift in medicine. Whoever cried out so loudly by conventional medicine in recent years: "Miracle healer! charlatan! Lock him up! Roar him down!" that will become clear after the fall of the Deep State.
With his death, I lost more than just a good friend! He was my teacher and a person I looked up to. I obeyed as a son obeys his father, in the awareness of his paternal wisdom. Sometimes he still puts his hand on my shoulder today … I still feel very close to him. I see it as an honor to have stood by his side for so many years.
Geerd, we are moving on!
Helmut
Biography
Born in 1935, Ryke Geerd Hamer grew up in Friesland. After studying medicine and theology, he worked in clinics and as a practicing doctor.
In 1972 he became a specialist in internal medicine and worked as an internist at the University Hospital of Tübingen. Here he dealt with cancer patients for years.
Besides his work, he also proved his unusual abilities as an inventor. He holds various medical patents, such as a scalpel that allows plastic surgery to be performed without bleeding, a unique bone saw, a particular couch that adapts to the body's contours, and a device for transcutaneous serum diagnostics. All these inventions show the extraordinary talents of this man.
In 1976, Dr. Hamer and his family wanted to retire to Italy to treat sick people in the slums free of charge. The patent applications were very successful and should provide the necessary financial support.
In 1978, during a vacation, Hamer's son DIRK was shot dead near Corsica by the enraged Italian Prince Victor Emanuel of Savoy. After a leg amputation and 19 further operations, DIRK died three months later at the University Hospital of Heidelberg. This incident changed the lives of Dr. Hamer and his family. Shortly after the death of his son, Dr. Hamer fell ill with testicular cancer.
From 1981, he worked as a senior physician in the cancer clinic belonging to the University Hospital of Munich. It was there that the thought occurred to him whether his illness might be in any way connected with the death of his son. He questioned all cancer patients about possible shock experiences they had had shortly before the onset of their disease and found all of them without exception. When he wanted to make his discoveries the subject of a medical discussion in the clinic in October, the clinic management gave him the alternative of either abjuring or leaving the clinic. After he had spent the time remaining to him, he left the clinic, working day and night, researching all the data of all cancer patients and recording and saving the results.
From that moment on, his research and his dispute with the Prince of Savoy were closely linked.
### in process ###
1983 The scientific diagnostic chart is created …
1995 the case of Olivia …
2000 Discovery of the SYNDROM …
2006 The discovery of the song "Mein Studentenmädchen" …
Topics

Approbation





Doctor Dignity





Habilitation





Correspondence



Far far away, behind the word mountains, far from the countries Vokalia and Consonantia, there live the blind texts. Separated they live in Bookmarksgrove right at the coast


literature





Patients





Hamer Scalpel





Therapist





Hamer to honor





Buffoons





Mein Studentenmädchen





His Children





His Clinics





His public rehabilatation during his lifetime





Criminal prosecution





University Sandefjörd





Verifications





Video





Center for New Medicine in Burgau (Austria)




Audios and Videos